I discovered the art of Yang Yongliang during last year's Art New York Fair at Pier 94, presented by Art Miami. The Chinese artist's photography struck me in its monumentality and detail. From a distance, the work entitled From The New World appeared to be a traditional Chinese landscape "shan shui" painting in black and white, but upon closer inspection, it is actually a digital construction, a photographic collage depicting urbanization. Monumental residential skyscrapers stack on top of each other to create complex architectural cliffs, and trees are replaced by massive cranes and power lines. The primary light source comes not from above, but from the congested metropolis illuminating the smog-choked air. Yongliang's industrial visions are both beautiful in composition and technique but dismal in subject matter.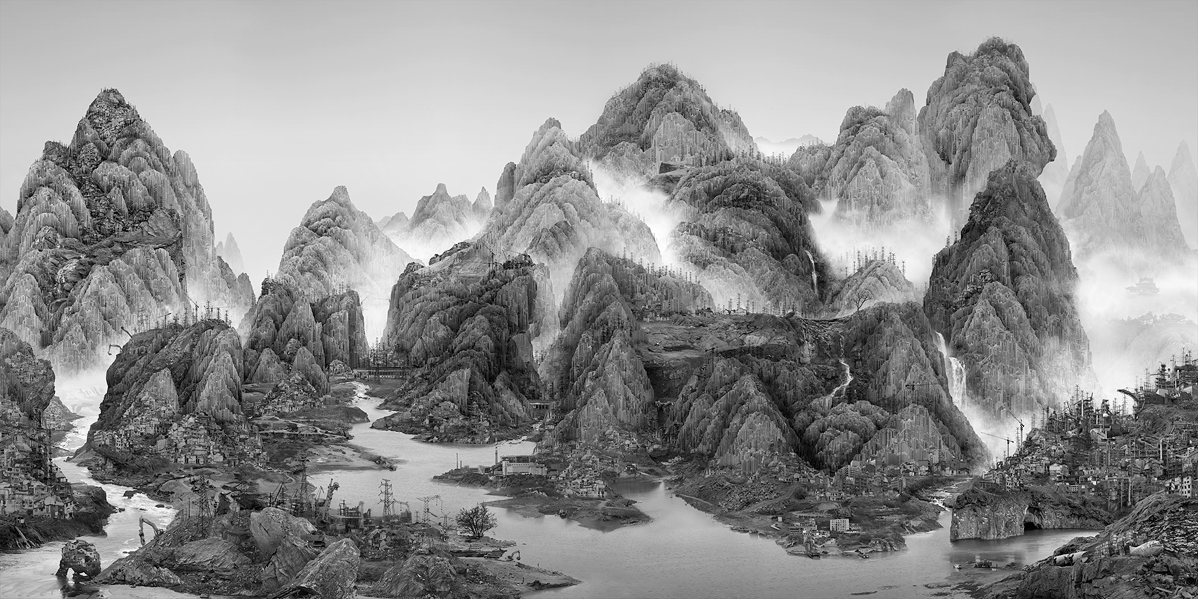 A native of Shanghai, Yongliang is no stranger to urbanization. In only 20 years, Shanghai has become almost unrecognizable in its almost aggressive development. Having studied calligraphy through college and various other traditional media, Yongliang is concerned by how quickly China has been abandoning its rich history and culture. In order to explore this, he thus developed his current style of combining new technology with traditional Chinese art. Aside from photography, Yongliang also works in video and animation.
For more information on Yang Yongliang, check out his website, www.yangyongliang.com. He is represented by Galerie Paris-Beijing. The Creator's Project also interviewed and filmed him as he went to photograph a demolished neighborhood in Shanghai.